Domestic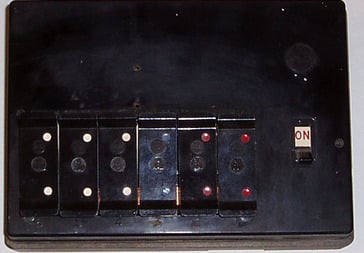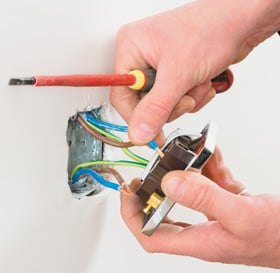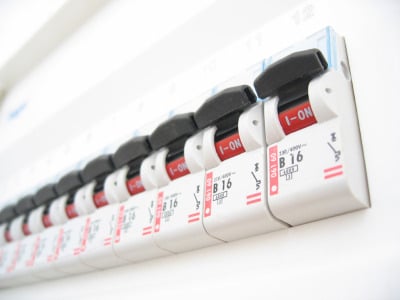 Our aim is to overcome any problem, issue or challenges you may have! Call and one of our friendly and reliable electricians can help with your electrical faults.
We are experienced in dealing with fault finding, repairs, maintenance, flood and accident electrical issues.
Upgrades of Fuse Boards (Also called Consumer Boards or Distribution Boards) to current regulation standard (Split RCD Boards/RCBO's & SSP - Surge Protective Devices).
Full design and installation electrical services offered. From extensions, garage conversions, fitting a new shower circuit to simply removing a socket in the way!
New Kitchen & Bathroom lighting a speciality, check out our gallery for ideas!
Old fuse boards (like the one on the left, above) have wired fuses. In the event of a direct short circuit (live to earth) the fuse blows and disconnects power to the circuit. Technology moves on, and we now have much better safety protection with MCB's, RCD's and RCBO's all of which were designed to look after you and your electrics. Protection is now given for short circuits, over current, neutral to earth faults & Surge protection - all of these can cause great discomfort! Click for simple explanations of these devices.
The 18th edition of the wiring regulations (BS 7671:2018) requires most circuits to be additionally protected by an RCD. Most new boards are a split load board (at least 2 RCD's) or fitted with RCBO's, this then minimises any nuisance tripping. With trip swiches (Often called MCB's) the trip can simply be reset rather than having to call an electrician to replace any blown fuse wire, and you and your family's safety is improved.
Listed below are some of the services we offer, please call to discuss your requirements.
New Electrical Installations
Energy Efficiency Advice
Electrical Maintenance
Electrical Repairs
Consumer Unit (Fuse Board) Upgrades and Replacement Units Installed
Spotlights & Downlights Installed
New light Switches and Dimmers
Ceiling Rose and Pendant Installation
Emergency Lights
Security Lighting
LED Lighting
Mood Lighting
New Plug Sockets, Added, Replaced & Removed
Rewiring Services
Smoke Alarm Installations
Outside Security Lighting
Garden/feature Lighting
Outside Remote Control Lighting